Leslie's Workshops
Leslie Lee is available to teach workshops at colleges, studios and conferences. You can contact Leslie about scheduling.
Painting –
Give yourself a DAY TO PAINT

Whether you have never set a brush to canvas, or are an experienced painter wanting to explore, this day will be a gift to your Creative Self. This is not a class or workshop intended to teach technique but rather an experience and an opportunity for you to see how I approach my recent work and try it yourself.
We will be working with acrylics on 2 x 2′ wood panels, starting with random marks and "smooshes" and letting that lead to imagery. More info on this process here. I will offer guidance and be painting along with the group.
Each session starts at 10:00 and wraps up around 4:00.
Lunch will be provided 
Limited to 4 participants per session.
$135 covers all materials and lunch.
Contact Leslie to register for A Day To Paint
Grab a couple of friends and request a date! Summer is so hectic it's hard to schedule anything so pick a time that works and I'll try to accommodate a minimum of three people, max of four.
In the fall I will try a schedule again. For this info in your mailbox sign up for our newsletter.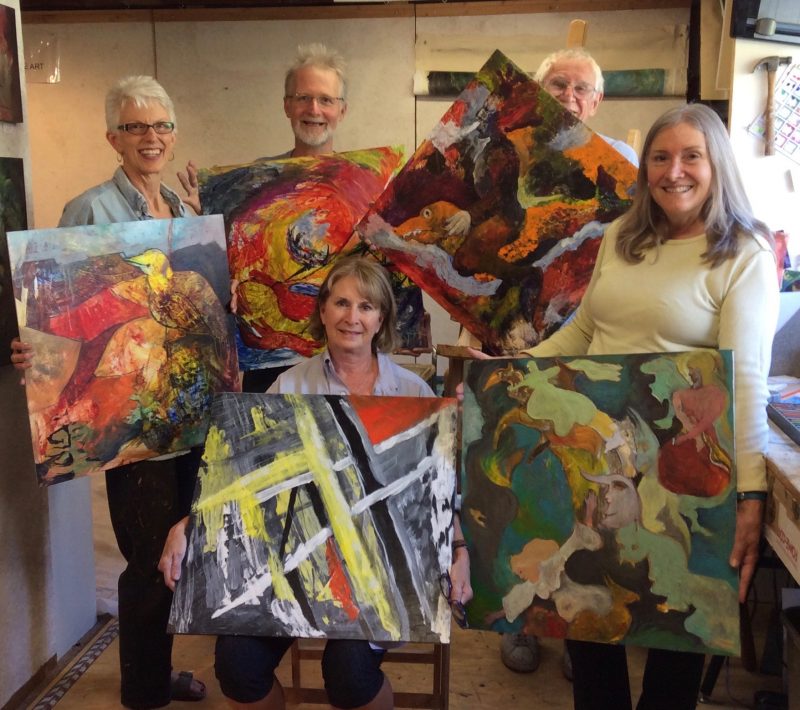 Clay –
After a decade hiatus from creating and teaching clay sculpture to peruse painting, Leslie realized she would once again enjoy sharing her thirty-plus years of clay experience with those interested in figurative ceramics.  In 2015 she taught a week-long workshop for Creative Arts Community at Menucha in Oregon's Columbia Gorge, and a one day demo at  Lower Columbia College in Longview, Washington. They were so much fun she thought she would consider additional opportunities.
Private clay instruction in Leslie's studio is available at $50/hr.   Inquire
 Georgie's Ceramics in NE Portland July 14 & 15, 2017  NEW CLASS!
Call (503) 283-1353 to register
Hand Building Stylized Figures with emphasis on Faces and Hands
In this workshop I will demonstrate making figures with hand-building pottery techniques. The bodies of figures can be quite abstract but as soon as faces, hands and feet are added the gestures become clear.  Often we are stymied when confronted with these essential figurative elements, leaving blank faces on heads and using awkward mitts for hands and feet.  I will show you step by step how convincing faces, hands and feet can make clay figures come alive.
In the two days of this workshop I will share my work in a slide presentation and demo the construction of a slab built "body" in the morning and assist the class with their own versions in the afternoon. On the second day I will demonstrate faces (video), hands and feet in the morning so the class can add these elements to their own figures.