A week at Art Camp
Tagged: art camp, classes, figurative ceramics, Menucha retreat Center, nature, Ruth Armitage
Category: Leslie's Doings, Painting processes
If you have lived in Portland Oregon very long chances are you have been to the Menucha Retreat Center near Corbett above the Columbia Gorge. Originally built by Julius Meier, of Meier & Frank fame, it is now owned by the Presbyterian church and serves as a place of refuge, reflection and learning for a variety of gatherings. Menucha is Hebrew for "by still waters".
For 51 years the Creative Arts Community, based in Portland, has offered an adults art camp for two weeks every August. Several classes are offered in one week sessions usually including painting, ceramics, sculpture, collage, writing, ukulele and so on. Some of the participants attend year after year as a much anticipated part of their summer.
I have been to CAC at Menucha several times. The most momentous week was nearly 30 years ago when Dennis Meiners, who I knew only slightly, asked me to be his assistant in a ceramics class he was teaching. We fell in love…and the rest is history.
Both Dennis and I have taught at Camp several times over the years. Last summer I jumped back into clay for a week teaching Figurative Ceramics and so enjoyed it I have been booking other clay workshops.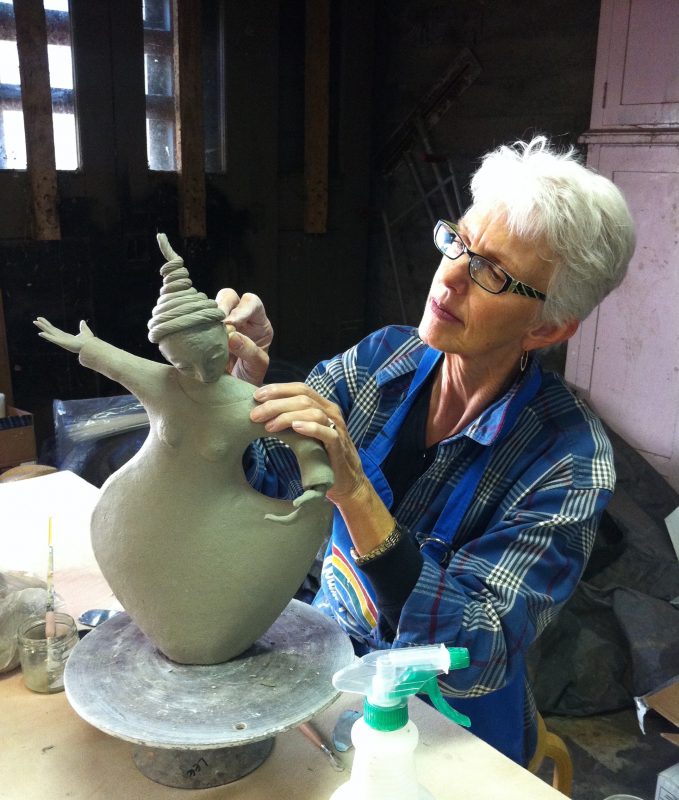 < I may finish this piece to have available during Portland Open Studios in October.
This August I returned as a student, taking Ruth Armitage's class to learn more about using cold wax with oil paint.
It was everything I had hoped for wrapped up in a week of beautiful weather and great classmates.
Ruth asked us to choose a theme to guide us through the week; mine was dance and patterns resulting in the paintings below (two others have been scraped for another try).
I also did 5 small panels to drive home some composition concerns – but that's another post for another day.