Opening Our Studios is invigorating!
Category: Classes taught by Leslie Lee or Dennis Meiners, Dennis' Doings, Events, Leslie's Doings, Painting processes
Every year during the second and third weekends of October over a hundred of Portland's artists throw open their studio doors and invite the public into the spaces where art is made. Portland Open Studios is a juried event that Dennis and I both have been lucky enough to get into the last two years; two years that proved one year does not necessarily portend the next.
We were not alone in reporting that our visitors and sales this October were about half of 2015, and though the weather was wet and wind storm warnings kept many people huddled inside,  I personally believe The Election was the main cause.  The director of my gallery Riversea in Astoria, who has been selling art for decades, told me she has seen this lull before every major election.
But did we have a good time with the people who came? Resoundingly YES!  This year I did  several demos each day, showing folks how I start my paintings with a "smoosh" and then begin looking for images to develop.  "Do you see anything?" I would ask – and off they would go.  Here is a woman who saw a whole picture in her mind. I hope she will come to one of my DAY TO PAINT sessions Dec.4, Sunday/ Jan.7 Saturday /Feb.9 Thursday and have fun with her own smoosh! Other visitors wanted to know if they had to find images if they came to a PAINT DAY. I assured them, of course not- color, line and form are fun to explore in the abstract.
Having children visit is also a special treat. They loved choosing the colors for my demonstrations and finding images in the chaos.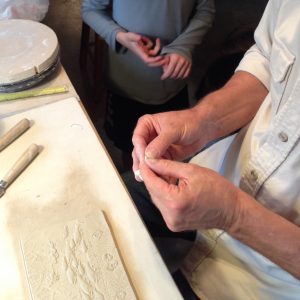 They were also fascinated by Dennis' process and watched for lengthy periods of time. When one little guy's mom asked him to pick out a cup to buy he said "Can I have the one I watched him make?". Yes, indeed – if you are willing to wait until after Halloween.
It will be fun to see his reaction when they return.